Full Colour
Mini Billboards
TAKE YOUR ADVERTISING TO THE NEXT LEVEL! WE NOW OFFER THE NEXT GENERATION OF PORTABLE SIGNS... MINI BILLBOARDS.
FULL COLOUR HIGH RESOLUTION GRAPHICS IN A SMALLER PACKAGE.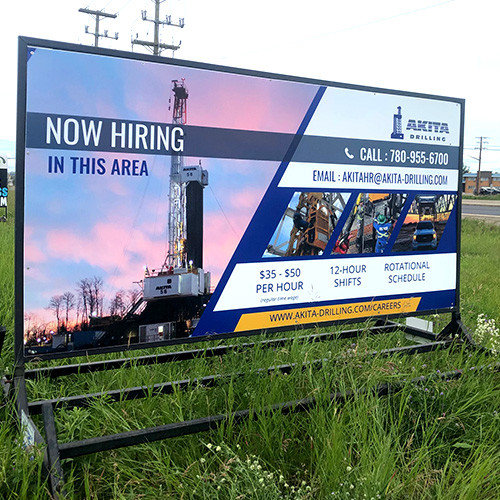 Traditional billboards are expensive, difficult to change and stationary. FSJ Accelerate Signs' Mini Billboards are economical, easy to change and portable. This gives you the flexibility to change the sign message or relocate the sign to a different area of town quickly and easily.
We have a variety of options available to suit your needs:
Unique Images – We can mirror your image on both sides or have two unique images
Sign Changes – You have the option to change one or both sides of your sign
Promo Stickers – Place removable promo stickers on your sign to promote an upcoming sale or special event
Mix & Match – Want the best of both worlds? Put a mini billboard on one side and changeable letters on the other side
Reuse – At your request, we can save your billboard images for reuse during a future advertising campaign
Portable signs are more cost effective than newspaper, radio or television advertising. Your ads will be seen by all vehicle and pedestrian traffic passing by your business.
Go big, bright and bold with full colour graphics. Use pictures of your products, your employees and your customers. Personalize your sign and your message to stand out from the crowd.